Whole School Whole Community Whole Child Model
Explanation of Change from CSHP to WSCC Model
The Coordinated School Health (CSH) approach has been used nationwide to integrate health-promoting programs, policies, and practices in the school setting. The CSH approach has been expanded to the Whole School, Whole Community, Whole Child (WSCC) model. This new model puts more emphasis on the psychosocial and physical environments and incorporates the growing role of community and family involvement. Furthermore, the WSCC model includes 10 components, including the splitting of two CSH components, Healthy and Safe School Environment and Family/Community Involvement, to create four distinct components.
Description of the WSCC Model
Components of the WSCC Model
Nutrition Environment and Services
Counseling, Psychological and Social Services
Physical Education and Physical Activity
Resources
Create Your Own WSCC Initiative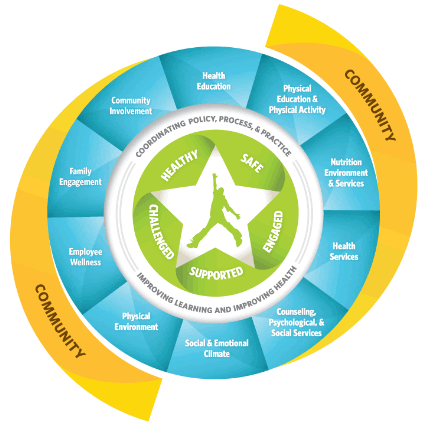 Upcoming Events
America's Promise Healthy Schools Fund - Deadline
January 22, 2018
20 states (Alaska, California, Colorado, District of Columbia, Florida, Idaho, Indiana, Michigan, Mississippi, Missouri, Nevada, New Jersey, New Mexico, New York, North Dakota, Oregon, Rhode Island, South Carolina, Texas, or Washington)
More information
Spring Collaborative Conference on Evidence Based Practices
March 1, 2018 - March 2, 2018
Columbia
More information
MCSHC Quarterly Meeting
March 14, 2018
Columbia, MO
More information
Missouri Association of School Nurses Spring Conference
April 14, 2018 - April 15, 2018
Columbia
More information
Share your upcoming event, training program, funding opportunity or webinar now!